Chinese and Japanese Garden
General Description
The Chinese and Japanese Garden is situated on two islands in Jurong Lake. The gardens are joined by the Bridge of Double Beauty.
The Chinese Garden was built in 1975 and designed by a well-known architect from Taiwan. Based on Chinese Gardening Art, the Garden features most of its area to "northern style" landscape architecture, the style of Imperial gardens and integrating brightly colored buildings with the surroundings.
The first thing you will notice when you enter the Chinese Garden is "Pai Hung Ch'iao" ("white rainbow bridge") which follows the style of the 17-Arch Bridge at the Summer Palace in Beijing.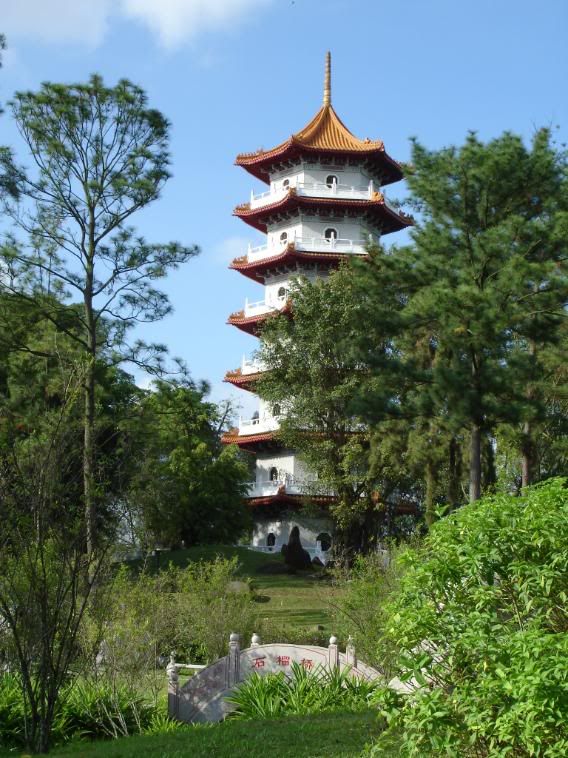 The signature architectural buidling is the seven-storey pagoda "Ru Yun Ta" follows the style of Ling Ku Temple Pagoda in Nanjing. The odd number of floors symbolizing continuity. You will also find the "Yao Yueh Fang" (Stone Boat) which is a minature replical of the elaborate, winding gallery at the Summer Palace.
For many, you will like the Garden of Beauty, in Suzhou style, representing the southern style of landscape architecture. Southern gardens were built predominantly by scholars, poets, and men of wealth. It was built at a cost of SGD 3.8 million, houses some 1,000 bansais imported mostly from China. A Bonsai Training Centre will be launched with resident experts from Shanghai and Suzhou to teach visitors the delicate art of caring for bonsai.


Visit the Japanese Garden to tranquil the mind and body. The marble-chip paths allow you to hear your own footsteps and meditate on the sound. The Keisein, or "Dry Garden," uses white pebbles to create images of streams. Ten stone lanterns, a small traditional house, and a rest house are nestled between two ponds with smaller islands joined by bridges.
Suggested Tour

Time spent

: 1-2 hours. If you are in a hurry, Japanese Garden could be skipped.

Day to visit:

Any opening time.
Main Gardens: 6am to 11pm daily
Bonsai Garden and Garden of Abundance: 9am – 6pm (daily)

Admission Fee


Main Gardens: Free



Garden of Abundance: SGD$2 adults, SGD$1 children (3 – 12 years), SGD$1 senior citizens (55 years and above)

Live Turtle & Tortoise Museum: SGD$5 adults, SGD$3 children (3 – 12 years)


Paddle boats can be rented for SGD$5 per hour just outside the main entrance.
Visit also the Bonsai Garden and climb the Pagoda. There is also a Live Turtle & Tortoise Museum
1 Chinese Garden
Singapore 619795
By MRT

Alight at Chinese Garden MRT station (EW 25) and walk 5 mins. It is infront of the station.

Bus Services: 180, 335 and 154
There are available carparks in front of the Chinese and Japanese Garden.
Toilets are situated at stops along the way.