Singapore Zoo – The Best Zoo
If you are a visitor to Singapore this is a MUST visit even if you don't have too much interest in animals. You will find the trip worthwhile for your whole family who will definitely enjoy the scenic and natural habitats for many different kinds of animals. Even for many Singaporean, this is a definite repeated place of visit years after years as there are so much to be offered and children are nagging to come back from time to time. For travelers without family, Singapore Zoo is also top of their agenda when visiting Singapore.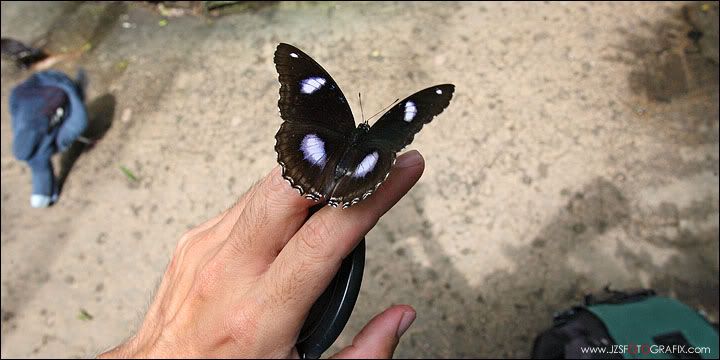 Why this is the top attractions for many visitors, Singaporeans and Permanent Residents? Why this Zoo had won so many International awards and is easily one of the best Zoo in the world?
For many visitors who are used to going to zoos where the animals are kept 50ft away from you, this will be a amazing experience. The Singapore Zoo is set at a 28 hectares rainforest environment. There are so many interesting things to do here but I will just highlight some, the rest you will experience for yourselves.
First, you can start your wonderful day by taking Breakfast with the Orang Utans! YES, you are able to eat a buffet breakfast about ten feet away from these friendly Orang Utans and take a closeup picture with them afterward. Not an usual experience you will get from your daily life or visiting any other zoo. Your kids will be thrilled.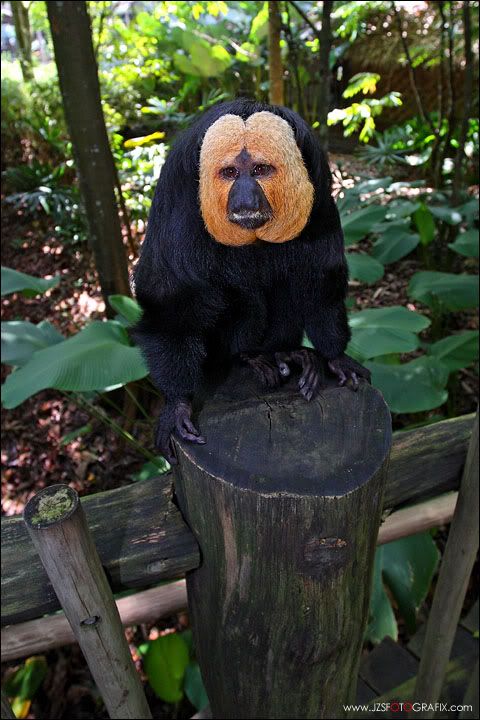 Singapore Zoo is well-known for creating natural habitats and its "Open Concept" where the animals are allowed to roam freely in their "enclosures". You could hardly feel that the animals are enclosed and keep safe away from you as they seems so close and roaming so wildly.
They done that with cleverly designed natural barriers (such as rivers and elevated platforms) that do not obstruct your views and able to run freely at the same time keep the danger animals safely away from you.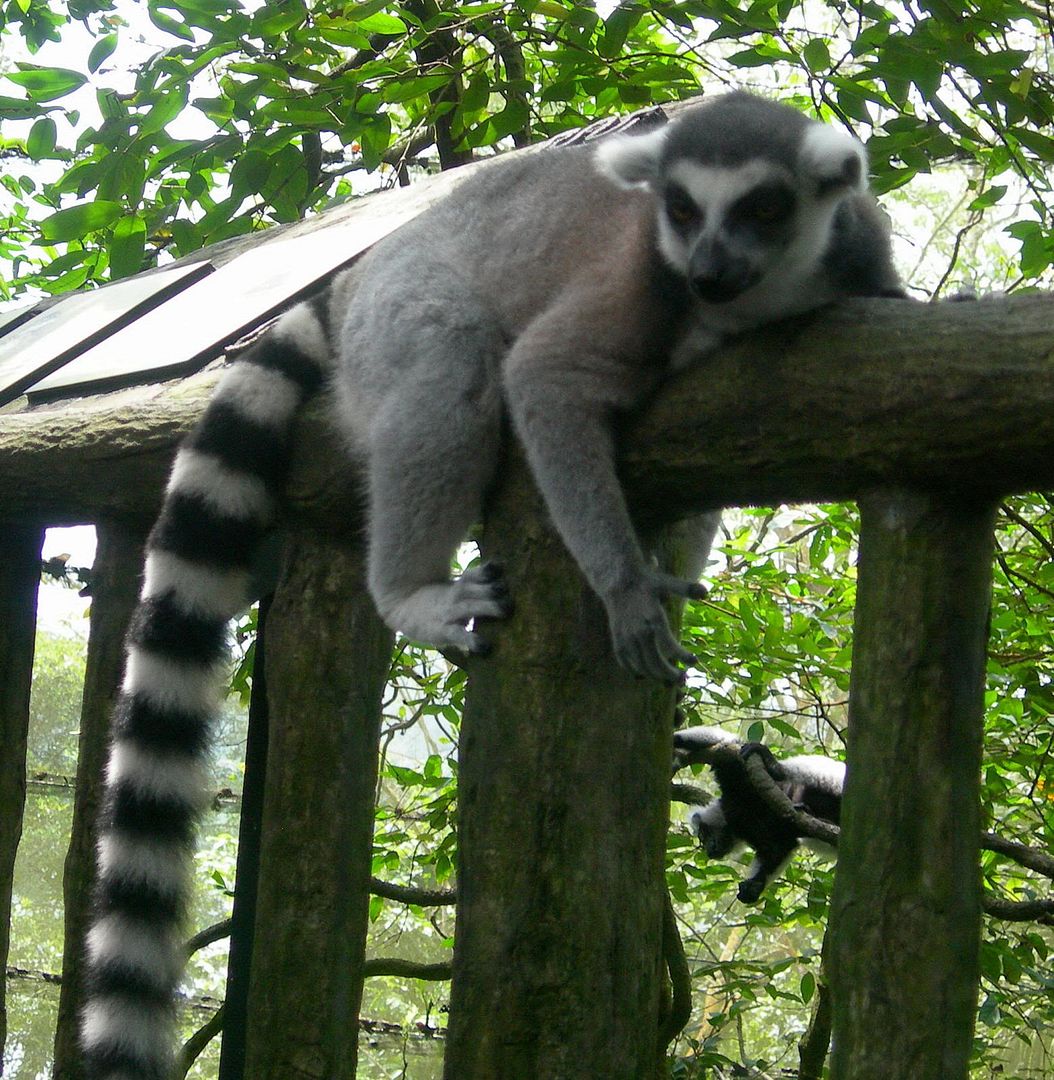 One of children's and my favourite is the
Fragile Forest
. It illustrate the ability of the Zoo in its uniqueness and capability to recreate the experience of entering a WILD REAL rain forest. You will be able to actually have many close encounter and "close-shave" with many species of animals and insects.
For example, a few sloths are literally walking in front of me and hanging and moving from branches to branches. The butterflies are resting at my son's hand and we see the big fruit bats hanging upside down just within reach of our hands.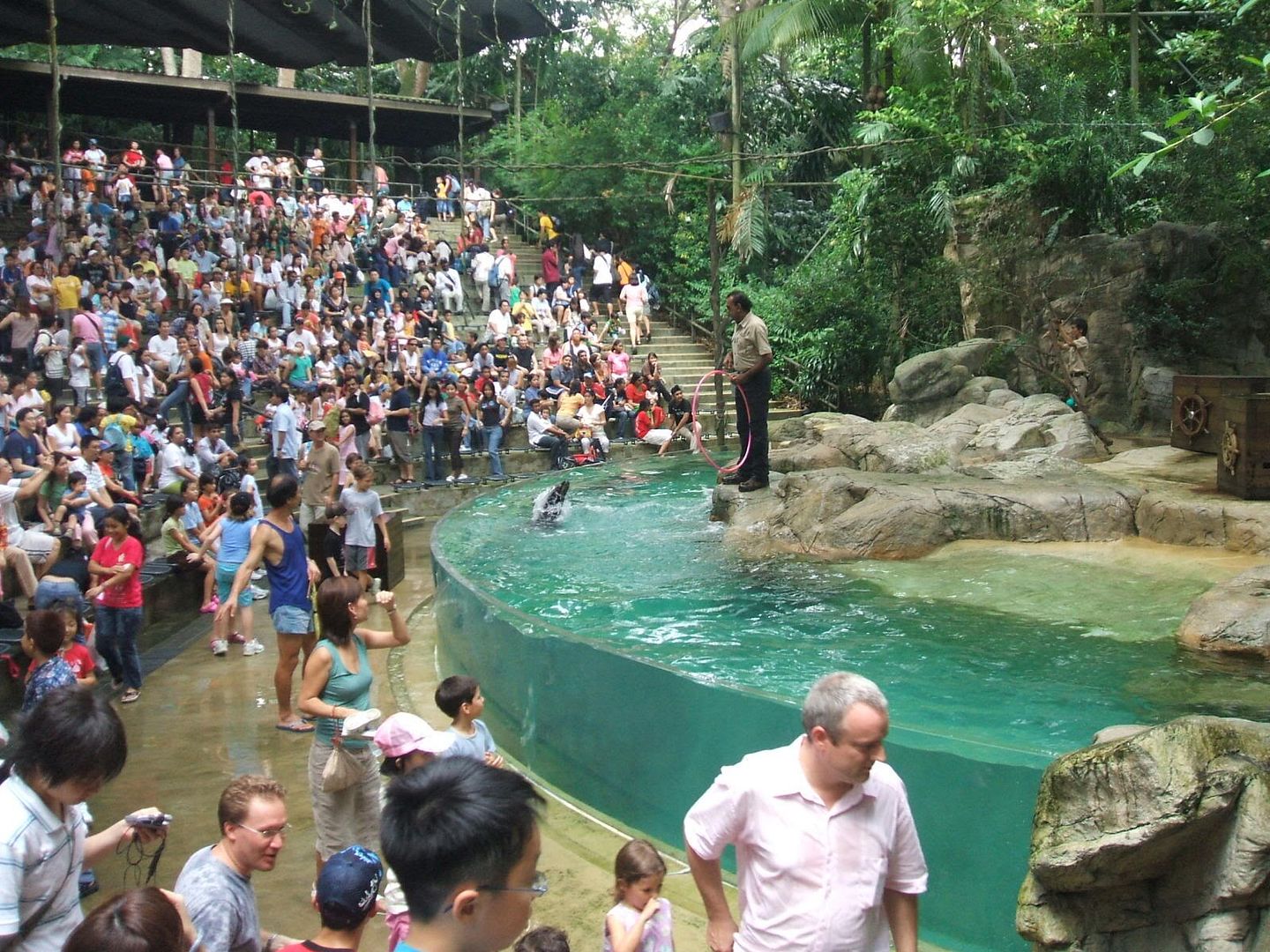 The animal feeding time and the animal performance are also something you and your kids should not miss. When you enter the Zoo, you will be given a copy of the Zoo map including all the feeding times and animal performance time. Choose any that suit your needs and curiosity. The friendly and knowledgeable Zoo-keepers will keep you well entertained and educated.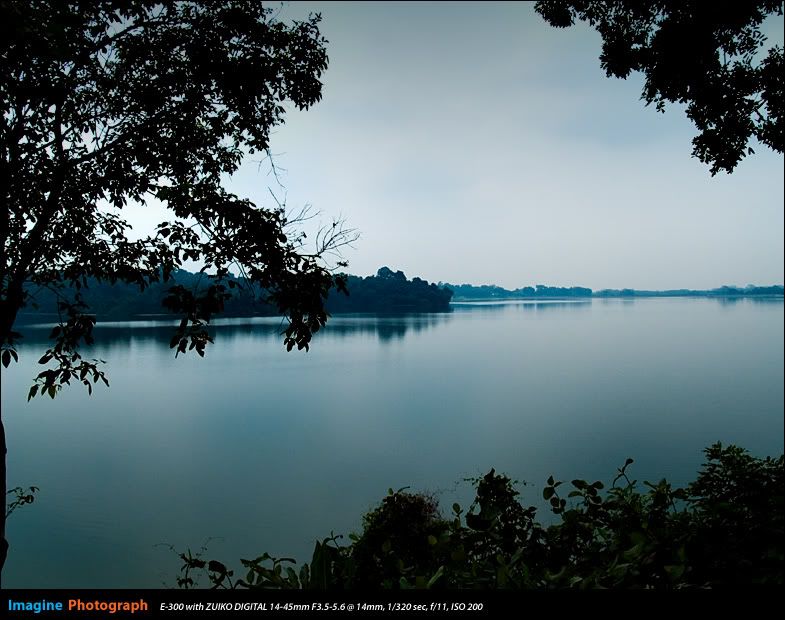 The latest attraction to the Zoo is the Boat Safari ride. There are 2 boat dock and the ride take approximately 20mins. Tickets can be purchased at the dock. You will be able to traverse the pristine waters of the Upper Seletar Reservoirs. The Boat Guides will share information about water and wildlife conseration. At the same time,look out for monitor lizards, stork-billed kingfishers or the white-bellied Sea Eagle as the boat glides through the water. Enjoy the serene atmosphere and the cooling breeze.


There is a separate zoo for kids and several opportunities for them to get rides on animals as well. Your kids can get real close to these animals and watch a animal show there too.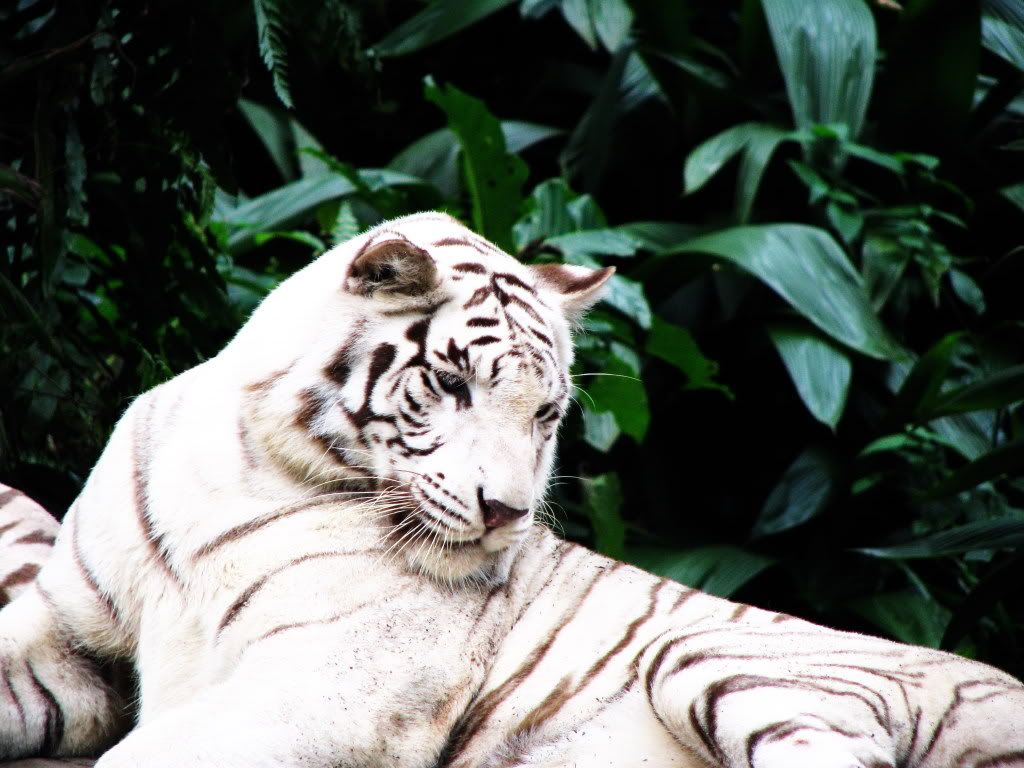 Other highlights included the The
Begal White Tigers
, Reptile House, Cat Country, Wild Africa,
Polar Bear
, Elephants and numerous rare animals.
There are food kiosks along the path, restuarants and also KFC and Pizzafari for some munch and resting your tiring feets. For the family, you could visit the Children Playground to have a KFC lunch and watch your children having a splashing good time at the Water Play area.
Singapore Zoo had around 315 different animal species and around 16% are threatened species. After visiting it yourselves, you will understand why Singapore Zoo is the top attractions that offers you the opportunity to experience and be inspired by the wonders of animal kingdom which is hardly found in other zoo.



Suggested Tour and TIPS

Day to visit:

Avoid School Holidays and Public Holidays as these days tend to be packed with school children and visitors. Check also what is showing and the timing of the show.
Get the tram ticket to go around the zoo which save some time and save some energy for your children. Having said that, this place is best traveled by foot if you have time as you get to see more along the way.


Take photos with tame animals (such as Orang Utans and Python) to keep as memory and souvenirs.

Visit the Children zoo and playground which your kids will love it.

Be prepared. Bring umbrella (for rain and sun), insect repellant and camera.

Rent a scroller and wagons for your little kids at the ticket counter.

For Singaporean and PR, if your family is really keen to come back more than once a year, it is best to sign up the "Friends of the Zoo" membership which allow free entry to the Zoo, Free parking, Free tram rides and other discounts.

Before leaving, visit the interesting souvenirs shop to get something for your loved ones.
8.30am to 6pm – daily

* Last admission at 5.30pm

Child: SGD$9.00 (3-12 years old)

Tram Rides: Adults SGD$5.00, Children: SGD$2.50
* Each tram ticket allows unlimited rides within the park.
Boat Ride:
Adults SGD$5.00, Children: SGD$2.50
Check also price for zoo-per Saver which include all the above at SGD$25 (Adult) and SGD$12.50 (child).
If you intent to visit 2 or 3 of the attractions (Singapore Zoo, Night Safari and Jurong Bird Park), do not miss the bundle Park Hoppers Specials. Check with the ticket counter or the online booking for more.

For visitors living in the city hotel near Orchard road, it is best you take a taxi or the Bus Hub Service.
Depends on where you come from you might decide which is the best route. For Visitors who stay in the city, choose the first one.
Alight at Ang Mo Kio station (NS 16) and take bus service 138.

Alight at Choa Chu Kang station (NS4/BP1) and take bus service 927.

Alight at Woodlands station (NS9) or Marsiling station (NS8) and take bus service 926 (only on Sundays and Public Holidays).

From Changi Airport station (CG2), board the train and alight at Tanah Merah Interchage station (EW4), swith to west-bound train to Jurong East interchage station (BP1/NS4). Switch again to north-bound train to Choa Chu Kang Interchage station (BP1/SN4) and take bus service 927.

By Bus
From City, take 171 to Mandai Road then alight at the first bus stop (ask the driver) and tranfer to bus service 927.

From Ang Mo Kio MRT, take bus service 138.
From Choa Chu Kang MRT, take bus service 927.
From the city, take the PIE towards Jurong. Look out for Exit 7 of the BKE and follow the prominent brown signs to the Zoo.



There is a big carpark in front of the main gate.

Parking charges are per entry and no grace period.



Parking charges: Car: SGD$3.90.

In the premises. Very nicely designed to suit the wild life theme.