Where to Go during CNY 2010?
Chinese New Year falls on the first day of the first lunar month and usually comes close to late January till early February. For 2010, the Chinese New Year falls on 14th February.
Singapore is one of the best city to experience Chinese New Year as the majority of population is Chinese and many of the places are easily accessible.
Many of the Chinese New Year traditions are passed down and practiced here since the day when the first Chinese immigrants came from mainland China.
Further to my previous post of "Singapore Chinese New Year Celebration 2010", here are more ideas of where you can go during this festive session in Singapore. What's more, most of the places recommended are FREE!
1. Singapore's River HongBao
This is a MUST place to visit if you have not been to one before to experience one of the longest event held during Chinese New Year. Now in its 24th year, this festival takes place on The Float in Marina Bay and you are encourage to join the party. There's always a great CNY atmosphere at the River Hong Bao.
This year the event will run for the following nine days and this year's event marks a special collaboration
between Singapore and the city of Chengdu. There are many fun activities to do such as watching a demonstration of Chinese cooking or Chinese papercraft, watching the acrobats on stage and the fantastic dancers in their beautiful costumes. The performances will be put up by 45 performers from Chengdu, 40 from Taiwan, and others from Singapore. The festival will also offer the chance to taste Chengdu delicacies and purchase handicrafts from the region.
As part of the tradition, you will also see the magnificent Chinese lanterns on display. Visitors to this year's River Hongbao can expect to see the largest lantern display ever held on the floating platform at Marina Bay. There will be 88 groups of lanterns from Chengdu with the largest one is about 18m tall. Some of the popular themed lanterns set to be on display include God of Fortune and Chinese Zodiac, while there will also be a chance to look for less well-known examples of the art, such as Panda Playground and Tiger Mountain. The exhibition will also feature lanterns made of sugar and porcelain spoons.
This year's event expects to attract more than 300,000 visitors, up from last year's estimated 150,000 to 200,000. So join in the party and be part of it! Have fun.
And be sure to watch the fireworks displays.
Where: The Floating Platform @ Marina Bay.
When: February 12, 2010 – February 20, 2010.
Time of Events:
Daily Operating Hours, except 13 Feb 2010
entry from 12pm to 11.30pm
nightly performances from 8pm to 10pm
13 Feb 2010 (Chinese New Year's Eve)
entry from 12pm to 1am
performances from 10pm to past midnight
Fireworks displays:
12 Feb 2010, for 3 minutes after sundown at the opening ceremony
13 Feb 2010, for 5 minutes at 11.59pm
Cost: FREE!
Direction: Take MRT to City Hall Station and follow the directions to Esplanade Theatres. Walk along the bay and see the signboard.
2. CNY Celebrations at Clarke Quay
If you happen to be near Clarke Quay, do check out these events that are happening during this period:
Performances at Read Bridge: Stilt-walkers, acrobats and calligraphers entertain on Friday and Saturday evenings.
Lion Dance on Boat: Lion dancers perform on a Chinese New Year boat as it sails down Singapore River. 7.30pm-8.30pm, Friday and Saturday.

Fireworks for 2 minutes at 9.30pm on these Saturday (30-Jan, 6-Feb, 13-Feb). Watch from riverside locations at Clarke Quay.

Where: Read Bridge at Clarke Quay; Singapore River.

Direction: Take MRT to Clarke Quay Station.

When: January 29, 2010 – February 13, 2010 Friday & Saturday evenings.

Cost: FREE!

3. Chingay Street Parade – A MUST

Another MUST see highlight of New Year is the famous Chingay Street Parade.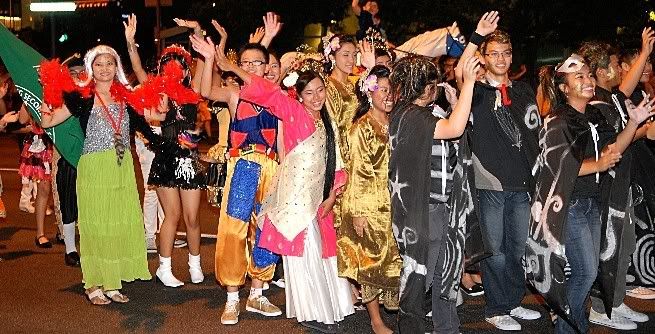 Chingay 2010 will showcase Asia in wondrous ways beyond your wildest imagination. It is a colorful display of various facets of the culture of the country. Participants from across the world make this a global event. The grand parade has some of the most famous artists performing live for the people.
For 2010, it will be held on 19th and 20th February from 8 PM onwards marching through the city center of Singapore.
Some highlights of the events:
Majestic flying horses promise to make an impression with strange fantasy characters in Chingay 2010 Grand Opening – The Soaring City!
Traditional dragon and lion dancers seize the parade grounds by storm! Cover your ears as you marvel at the crackling Chingay's FIRST pair of Fire-cracker dragons!
Legendary well-loved tales (Butterfly Lover, Puteri Gunung Ledang and Indralogam) weaved into rich multi-ethnic performances will spin you into a spell of intrigue
Wonders from around the world – thrilling displays by overseas and local groups promise to enthrall.
The story of Yellow River 黄河 takes centre stage for the first time in the history of Chingay.
Samba Singapore! Gyrate and rock to the Samba Parade in Asian (Singapore) fashion! Be thrilled by waves of colours, glittering floats and high energy moves by 2,000 performers!
The Grandest Finale in Chingay History will debut in Chingay 2010 with a moving presentation of the "Colours of the Lion City and Celebrations" – jointly presented by the People's Association Youth Movement, Resorts World at Sentosa, Singapore Soka Association and multi-cultural partners.
Where: Singapore F1 Grand Prix Pit Building @ Marina Bay. (next to Singapore Flyer).
When and Time: Friday, 19 Feb 2010 (8.30pm) and Saturday, 20 Feb 2010 (8pm).
Cost: FREE admission along Parade route. Viewing stands require tickets. (see ticketing info).
Parade Routes
4. Samba Party
You can be part of this large scale Singapore Samba Parade
Rehearsal (and Parties) involving at least 2,000 participants from different organizations in front of the F1 Pit Building (next to Singapore Flyer). It is open to members of the public and tourists and complete with beer and F & B, residents and tourists can join the Public Participation Segment to enjoy the "Singapore Samba Parade" experience during the rehearsals and Party!!!!.
Where: F1 Pit Building (next to Singapore Flyer).
When and Time: 30th Jan 2010. 7pm – 10pm
Cost: FREE!
5. Chingay PAssion PAsar 2010
You and your kids will love this! Come down to this Chingay carnival for a time of fun of enjoyable activities such as meeting your favourite Anime and Movie characters. Take some photographs with them and bring back some cute memories. Or you could dress up in the huge array of glitzy Chingay and novel Cosplay costumes and get yourself photographed at the Chingay Photobooth.
There will be lots of entertainment such as the stiltwalkers, magicians, balloonists, caricature artist and many more. You can Learn simple groovy Samba dance steps and even be a part of the Chingay Parade under the Singapore Samba segment.
Transform yourself and enter into a world of fantasy, magic and legends by joining the Cosplay Showdown (see below) to win attractives prizes!
There will be food and drinks to satisfy your appetite by enjoying alfresco dinning by the sea. Tasty treats and drinks from Old Chang Kee, Nestle, New Zealand Ice Cream, Polar Natural Mineral Water and Donut Empire.
You can bring back home some souvenirs and exclusive Chingay merchandise such as the special edition Chingay 2010 T-shirt at the T-shirt Booth.
Where: Promenade between Pit Building and Singapore Flyer.
When and Time: Friday, 19 Feb 2010 (3pm – 1am) and Saturday, 20 Feb 2010 (3pm – 1am)
Cost: FREE!
6. Cosplay Showdown
Are you game to showcase your love for your
anime character by transforming yourselves to them? Here is your chance to showcase your cosplay talents on stage with your best outfit. Winners can anticipate walking away with great prizes! If you are keen to watch the participants, you can catch them at the Chingay PAssion PAsar and have some photograph with them too.
Selection Round
Date: Fri, 19 Feb 2010
Time: 2.30pm to 4.30pm
Final Round
Date: Sat, 20 Feb 2010
Time: 3pm to 4.30pm
Where: Chingay PAssion PAsar. Promenade between Pit Building and Singapore Flyer.
More information on the Cosplay
Closing Date for registration: Mon, 8 February 2010
7. CNY @ AMK Hub
Visit AMK Hub for an array of CNY activities and events.
J Team Cabaret
Let J Team artistes Henry Thia, Michelle Tay and Tay Yin Yin tickle your funny bone with their carabet show. Along with Priscilla Lim and local entertainment veteran Wang Lei, this will be a light-hearted performance that everyone will enjoy!
Date: 30 & 31 Jan 2010, 6 & 7 Feb 2010
Time: 2pm & 7pm
Magical Mask Change
Don't even blink as the magical mask changer makes a series of radical mask transformations in full view of the audience. How does he do it? Look closely and who knows – you might just uncover his secret!
Date: 30 & 31 Jan, 6 & 7 Feb, 2010
Time: 5pm
Amazing Acrobats
Be enthralled by the amazing stunts of this group of acrobats from China's Hunan Province – and see them perform stunts you never thought the human body was capable of!
Date: 30 Jan & 6 Feb, 2010
Time: 5.15pm
Children's Variety Show
With a cheerful song and dance routine of modern and traditional Chinese New Year songs, our young performers will impress and entertain with their talent and enthusiasm!
Date: 31 Jan & 7 Feb, 2010
Time: 5.15pm
Light Up Your New Year
Be dazzaled by the bright firecrackers and our fortune boy as he stands tall on the magnificent tiger at the main entrance. Bring the family down and take some happy snapshots with the 12 zodiac animals as well!
Date: 15 Jan to 28 Feb, 2010
Time: Opening hours at Main Entrance.
Roving Magic Fortune God
Watch golden ingots and coins magically appear from the Magic Fortune God himself or from AMK Hub shoppers as he goes around to bless everyone with good fortune and prosperity!
Date: 30 & 31 Jan, 6 & 7 Feb, 2010
Time: 3pm & 6pm
Fun & Games with Jeremy Chan
Catch host Jeremy Chan at AMK Hub as he brings fun and games to the mall during the weekends! Join him on stage, take part in the quizzes, and you might walk away with attractive prizes!
Date: 30 & 31 Jan, 6 & 7 Feb, 2010
Fun & Games with Jeremy Chan
Meet local artistes Mark Lee, Yeo Yann Yann, Wang Lei, Tay Yin Yin and Jeremy Chan, stars of Jack Neo's latest blockbuster!
Date: 6 Feb 2010
Time: 4pm
Where: AMK Hub. 53 Ang Mo Kio Ave 3. Singapore 569933.
8. Spring @ Raffles City
A symphony springs to life this Chinese New Year in Raffles City. With musical performances as fresh as a thousand blooming flowers, along with exclusive shopping and dining deals.
Hangzhou Art School
Founded in 1956, this school boasts a rich tradition of musical excellence that has enthralled audiences around the globe.
Date: 25 – 31 Jan 2010
Time: 1pm & 7pm (Mon – Fri). 1pm, 4pm & 7pm (Sat & Sun)
Where: City Square, Level 3. Raffles City.
Beijing Percussion Arts Centre
Committed to reforming the art of percussion, this group will thrill music purists.
Date: 1– 7 Feb 2010
Time: 1pm & 7pm (Mon – Fri). 1pm, 4pm & 7pm (Sat & Sun)
Where: City Square, Level 3. Raffles City.
Tianjin National Orchestra
This group has wowed audiences across China by accompanying performances such as ballet and large-scale operas.
Date: 8 – 21 Feb (except 13 – 15 Feb) 2010
Time: 1pm & 7pm (Mon – Fri). 1pm, 4pm & 7pm (Sat & Sun)
Where: City Square, Level 3. Raffles City.
The Intricacy Of Artistry
Add some chinoiserie chic to your home with handicrafts like Wuxi clay sculptures, Chinese calligraphy, traditional paper cuttings and more.
Date: 8 – 21 Feb (except 13 – 15 Feb) 2010
Time: 1pm & 7pm (Mon – Fri). 1pm, 4pm & 7pm (Sat & Sun)
Where: City Square, Level 3. Raffles City.
Check out here for more of what you can do during Chinese New Year.